New Brow Stamp Kit Reusable Head Eyebrow Powder Stencil Kit Makeup Shadow Stick One Step Eyebrow Shaping Long Lasting Stamp Kit
Regular price
$29.99
Sale price
$19.99
Unit price
per
Sale
Sold out
Eyebrow Brow Stamp Kit Gel Eye Brow Stencil Kit Waterproof Eyebrow Stamp Powder Makeup Reusable Eyebrow Stencil
Reasons you will Love ❤️ it:
If you are having trouble with your brow makeup, this Brow Stamp and Shaping Kit will show you how simple it is to achieve flawless and symmetrical brows in just one minute.

WHAT IT IS: This kit helps you to create the perfect brows and features 10 eyebrow stencils, an eyebrow pomade, a sponge applicator for stamping, and a dual-ended angled eyebrow brush. Each is contained in a zipper pouch that can fit in your handbag or makeup cabinet.

SIMPLE & HASSLE-FREE - You can apply the eyebrow pomade with ease using the eyebrow stencil.

LONG-WEARING, SMUDGE-PROOF, AND WATERPROOF - The long-wear formula prevents rubbing by keeping the brows in place all day. They are excellent for hotter temperatures or active days because they are frequently waterproof and smudge-proof.
About this Item:
Fill in Brows Perfectly
Place it and draw naturally filled-in eyebrows with zero effort! Perfect for beginners, it gives you the easiest, fastest way to shape eyebrows like a pro.
Long-Lasting, Waterproof
The buildable, transfer-resistant formula will leave a naturally matte finish that lasts through the day.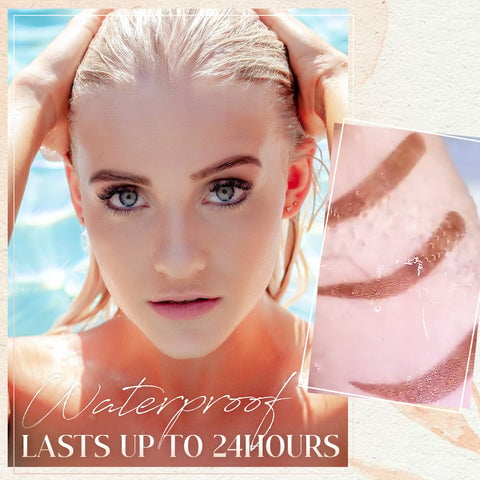 Perfectly Shaped Border
No more uneven eyebrows! The pre-printed stencil helps you to stamp on sparse area effortlessly with no mistakes.
Quick & Easy to Use
Perfect for beginners to create good-looking brows, this kit will turn an 15 minutes-long filling-in process into seconds with even application.
Reusable, Washable
Durably made with waterproof PVC for long-term use, just rinse it with warm water with zero residues!
10 Shapes for Selection
Suitable for Hiding Hair front & Bald Spots
Applicable people: All skin tones
Specification: eyebrow powder/10 eyebrow cards
Shelf life: 3 years
Color: dark gray, dark brown, medium brown
Features:
1. Convenient mini, fine texture, natural color
2. The design of soft mushroom head, grasps powder firmly, novices can also quickly color
3. Quickly take powder (take the powder on the cover) 
How to use:
Rotate and open the lid. Dip the mushroom head into the cosmetic powder in the lid and blend naturally from the inside to the outside along the hairline, bridge of the nose and chin.
Or use the eyebrow card to fill the eyebrow card and draw a natural eyebrow shape.
Package Included:
1xsponge head brow powder/1xbrow powder+2xbrow brush+10xbrow card
Share